Supportive Policy Environment for Reducing Consumer Food Waste
A lack of public awareness about food loss and waste (FLW) is said to be a huge contributor to the problem of food waste.
In the United Kingdom, a major public awareness campaign, Love Food Hate Waste, has been extremely successful. In the five years the campaign has run, the avoidable household waste has dropped by 18 percent.
In the United States, the Environmental Protection Agency's Food: Too Good to Waste pilot campaign has also proven to be an effective education and waste reduction tool. The associated toolkit, which has been linked to a 25% reduction in household wasted food, is made up of simple strategies and tips to help individuals and families prevent wasted food at home.
Key Publications
Consumer Food Waste Fact Sheet

This document focuses on why consumers waste food, how much, and what can be done to reduce this waste. This is useful for those involved in communicating strategy and policy to prevent consumer waste.

WRAP brings organizations together to create a global network focused on making grocery products more sustainable, and aim to cut food waste and drink emissions in the UK by one-fifth per capita.

Global Initiative on Food Loss and Waste Reduction

The impacts of food loss and waste as well as strategies to mitigate this are important components in the FAO's Global Initiative on Food Loss and Waste Reduction.
More Resources
More Resources

One of the major issues prevailing in the fisheries and aquaculture industry in Sri Lanka is the high loss and waste of fish, and it has become necessary to introduce strategies aimed at preventing and...
This study aims to improve understanding of how green and digital technologies could be used to reduce consumer food waste and what could be done to further unlock this potential.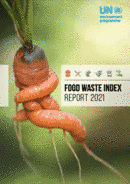 In complement to the Food Loss Index, developed by FAO, the Food Waste Index covers the later stages of food's journey – food waste – occurring at household, food service and retail level.