Regulatory Environment for Reducing Consumer Food Waste
Laws, regulations and standards all have a role to play in reducing food loss and waste (FLW). Some examples are as follows:
Date Labelling
'Display until' dates are not required by legislation, but are sometimes used on a label or pack to assist retail staff with stock rotation. However, 'display until' dates can reduce consumers' understanding of the 'use by' and 'best before' dates. This results in food that is still within life being thrown away or, potentially, a food safety risk.
Research on date labelling from the United Kingdom suggests that standardizing food date labelling and clarifying its meaning to the public could reduce household food waste by as much as 20 percent.
Since 2010, several leading Norwegian companies have revised the date labelling on their products, changing from "use by" to "best before" on all suitable products as long as this does not compromise food safety. In its communication work, Norway's ForMat Project (a food waste prevention initiative) highlighted the differences in date labelling and urged consumers to use their senses before discarding food that had passed the "best before" date.
Supermarket Food Waste
In 2016, France became the first country to adopt legislation which bans supermarkets from throwing away food or food products that are edible or could be used for animal feed. The legislation requires supermarkets to sign contracts with charities to which food could be donated.
Value Chain Waste
In June 2017, five Ministries on behalf of the Norwegian government and twelve food industry organizations signed a binding agreement to halve food waste across the food value chain in Norway within 2030.
More Resources
More Resources

One of the major issues prevailing in the fisheries and aquaculture industry in Sri Lanka is the high loss and waste of fish, and it has become necessary to introduce strategies aimed at preventing and...
This study aims to improve understanding of how green and digital technologies could be used to reduce consumer food waste and what could be done to further unlock this potential.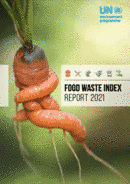 In complement to the Food Loss Index, developed by FAO, the Food Waste Index covers the later stages of food's journey – food waste – occurring at household, food service and retail level.