Skills and Knowledge for Canning
Key skills and knowledge required by those managing and working in a cannery to prevent and reduce food loss and waste (FLW) include:
principles of canning
packaging materials for canned fishery products
unit operations
fish spoilage and raw material handling
pre-treatment
pre-cooking
filling
sealing
retorting
post-process handling
final operations
canning processes
equipment for fish canning
process control in fish canning operations
GMP prerequisites
hazard analysis critical control point (HACCP)
Canning operations involve the sourcing, handling, cold storage and processing of large volumes of fish. Hence an understanding of logistics is important.
Canning is highly automated involving specialized machinery. Engineering skills and knowledge will be required in order to maintain operations and avoid unnecessary problems during processing which could lead to FLW.
More Resources
More Resources

One of the major issues prevailing in the fisheries and aquaculture industry in Sri Lanka is the high loss and waste of fish, and it has become necessary to introduce strategies aimed at preventing and...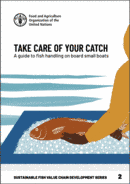 What happens to fish after it is caught has a big impact on its quality. This guide is for fishers, vessel owners, extension services, and anyone interested in how to maintain fish quality.

In order to support long-term capacity building for women, the SSF Umbrella Programme conducted a review to identify successfully adopted post-harvest best practices that should be disseminated more widely to help reduce fish loss and...