Supportive Policy Environment for Canning
The Canned Food Alliance educates people about canned food's numerous benefits, including nutrition, convenience, availability and sustainability. The membership of the Canned Food Alliance (CFA), which is comprised of steelmakers, can manufacturers, food processors and affiliate members, is dedicated to providing safe, affordable and nutritious products for consumers. The members always put the safety of consumers first as they meet or exceed all applicable safety standards.
The processing industries are called upon to review their commercial policy in order to improve their share of the created value addition. The purpose is to position themselves better in relation to the distribution players whose role is gaining more ground. To this end, the processors will need, for example, to work towards reducing the Moroccan-Moroccan competition, also reducing the impact and expansion of the private-brand distribution, and finally, developing promotion policies that have become crucial and decisive even for products that have achieved wide commercial success.
Although the task of public authorities is governed by rules and regulations, these organizations must review and adapt their sectorial development policies in accordance with the needs and expectations of value chain actors, including the processing units. The latter should, in exchange, invest more in innovation to adapt their products to customers' expectations, especially for canned sardines whose products have witnessed little change in recent years. The competition from emerging foreign countries - particularly in Asia - and the low level of competitiveness of domestic enterprises should push the processing companies to strengthen their business management and to constantly improve the skills and qualifications of their support teams.
More Resources
More Resources

One of the major issues prevailing in the fisheries and aquaculture industry in Sri Lanka is the high loss and waste of fish, and it has become necessary to introduce strategies aimed at preventing and...

In order to support long-term capacity building for women, the SSF Umbrella Programme conducted a review to identify successfully adopted post-harvest best practices that should be disseminated more widely to help reduce fish loss and...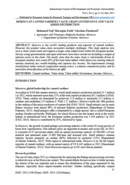 This study aims to analyze both production and marketing of canned sardines using VC method. The goal is to quantify the creation of VA and examine distribution among the different actors within the chain.