Why is gender equality and rural women's empowerment central to the work of FAO?
FAO recognizes that rural women and men, together, hold the keys to ending hunger and extreme poverty. Rural women and girls, in particular, are recognized as major agents of change. Across low-income countries, women make up 48 percent of agricultural employment. As farmers and farm workers, horticulturists and market sellers, businesswomen, entrepreneurs and community leaders, they fulfil important roles throughout agrifood value chains, as well as in the management of natural resources such as land and water.
Yet the gender gap in food and agriculture is extensive. As consumers, women are more likely to be food-insecure than men in every region of the world. And as producers, rural women face even greater constraints than their male counterparts in accessing essential productive resources and services, technology, market information and financial assets. They are under-represented in local institutions and governance mechanisms, and tend to have less decision-making power. In addition to these constraints, prevailing gender norms and discrimination often mean that women face an excessive work burden, and that much of their labour remains unpaid and unrecognized.
While a focus on these constraints is crucial, it can sometimes reinforce common perceptions of rural women and girls as vulnerable victims of their circumstances, and obscure the nature and magnitude of their potential. As noted in The State of Food and Agriculture 2010–11, women are as good at farming as men: evidence shows that if women farmers used the same level of resources as men on the land they farm, they would achieve the same yield levels. As illustrated in the many examples featured on this site, rural women are resilient, resourceful, industrious and innovative.
Betty, a female entrepreneur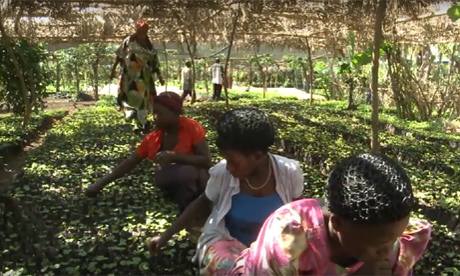 A video on rural Uganda, for example, tells us the story of Betty Ndugga. Betty used to be a clothing trader in Kampala, but after her husband died she had to return to her village. She joined a local Farmer Field School supported by FAO and, with the training she received in coffee production, she decided to start a nursery for coffee seedlings.
The nursery is now a flourishing and successful business, providing income and opportunities for others in the community. As a widow, Betty is well aware of the vulnerability of female-headed households, and the nursery provides work for many such women in the area. These women, in turn, use their earnings to pay for their children's school fees, medical care and more.
Among Betty's many customers is the Uganda Coffee Development Authority, which buys her seedlings and distributes them to other farmers in the area, as part of a drive to revive the country's coffee sector.
SDGs








Across FAO's work in fisheries, forestry, crops, livestock and more, the Organization has seen rural women like Betty demonstrate, time and again, their determination, ingenuity and success in turning the challenges of poverty, hunger and hardship into opportunities for both the economic and social well-being of their families and communities.
When rural women have access to resources, services and opportunities, they become a driving force against hunger, malnutrition and rural poverty.
Experience shows that enhancing gender equality in rural areas is indeed a key instrument to fight poverty and hunger. One of the first comparative studies of developing countries found that between 1970 and 1995, 43 percent of the reduction in hunger that occurred was attributable to progress in women's education. This was almost as much as the combined effect on hunger reduction of increased food availability (26 percent) and improvements to the health environment (19 percent) during that period. An additional 12 percent of the reduction in hunger was attributable to increased life expectancy for women. Thus, fully 55 percent of the gains in food security in the countries studied was due to improvements in women's societal status. In the years since, research has continued to show the strong correlation between gender inequalities and hunger, and various studies have confirmed the positive association between the education of women and children's health outcomes such as height, weight and immunization.1
Focusing on women does not mean leaving men behind: all of FAO's work on gender equality recognizes that empowering women also empowers and benefits men, and that the key to improved agriculture, food security and nutrition lies in the involvement of men, women, boys and girls. For example, an FAO project to rehabilitate Philippine fishing communities in the wake of Typhoon Haiyan provided different and targeted support to men and women beneficiaries, with a focus on the different roles each played in areas such as post-harvest processing, boat-building, and more. SDGs





Gender equality doesn't mean that men and women will become the same, but rather that their rights, responsibilities and opportunities will not depend on whether they were born male or female.
Empowering and enabling men and women to participate more effectively in agriculture also translates into improved well-being for their children, thereby building human capital for future generations. As such, achieving gender equality and empowering rural women, men, girls and boys will not only improve nutrition, health and education outcomes, it will also bring both immediate and long-term economic and social benefits for families, communities and nations at large.
FAO, gender equality and the 2030 Agenda
The focus on gender equality and women's empowerment is explicit throughout the Sustainable Development Goals (SDGs), both in the form of a dedicated Goal on Gender Equality (SDG5) and as a cross-cutting theme with more than 30 related targets across other SDGs. Every aspect of FAO's work in gender equality and the empowerment of rural women and girls is aligned with the SDG international framework, and contributes to each of the 17 SDGs, in line with the pledge that lies at the heart of the 2030 Agenda: to leave no one behind.
The role of FAO: Making gender equality and women's empowerment a reality
FAO contributes to reducing gender inequalities through its work on norms and standards, data and information, policy dialogue, capacity development, knowledge and technologies, partnerships, and advocacy and communication.
At the global and regional level, FAO advocates for sharpening the focus of high-level dialogue and decision-making regarding food security and nutrition to ensure that gender equality and women's empowerment issues are adequately addressed.
For instance, the Organization successfully supported the inclusion of gender equality considerations in the Second International Conference on Nutrition (ICN2) and its related outcomes, such as the Rome Declaration on Nutrition, which called for empowering women and girls in order to end all forms of malnutrition. And through its work with the Committee on World Food Security (CFS), FAO engages with governments, development agencies, academia, civil society and the private sector to jointly develop key international instruments such as the Voluntary Guidelines on the Responsible Governance of Tenure of Land, Fisheries and Forests in the Context of National Food Security, which provide a paramount opportunity for reversing gender inequalities around the world.
At the national level, FAO supports governments across a range of subsectors including crops, livestock, forestry and fisheries to design and implement policies and programmes that ensure women and men have equal access to productive resources, organizations, technologies, markets, decent employment and social protection, and that they participate and benefit equally from agricultural services and opportunities.
In addition to strengthening local capacities across ministries and other national institutions, the Organization works with countries to produce and use sex-disaggregated data, gender-sensitive indicators and gender analysis, all of which are critical to evidence-based policy development.
A global reference scale
Through a project launched in 2013, FAO developed the Food Insecurity Experience Scale (FIES), an experience-based metric for measuring the severity of food insecurity in a way that is comparable across countries. Until recently, most mainstream food insecurity scales (including experience-based measures), used the household as the unit of analysis. The FIES, however, is administered at the individual level, which allows for the disaggregation of data by both age and sex. While not the first individual-level experience-based scale of its kind, it is the first to be applied across a large number of countries in a standardized manner. The gender implications are therefore significant, in that the FIES makes it possible to collect, compare and analyze data on differences in the experience of food insecurity between men and women around the world. As such, it is an important new complement to existing tools with which the global community measures and ensures progress towards ending hunger.
Collected by FAO in 2014, 2015 and 2016 in almost 150 countries, FIES data was featured in The State of Food Security and Nutrition in the World 2017, with three-year averages showing that the prevalence of food insecurity was slightly higher among women—both at the global level as well as in every region of the world.
FAO also works with national stakeholders to implement projects that help rural women and men gain more control over productive resources and decision-making processes, thereby enabling them to unleash their full potential.
FAO and the Convention on the Elimination of All Forms of Discrimination against Women
The Convention on the Elimination of All Forms of Discrimination against Women (CEDAW) is an international human rights instrument currently ratified by 189 countries that defines what constitutes discrimination against women and sets an agenda for national action to end such discrimination. CEDAW entrusts FAO with assisting member countries to report on the progress made towards eliminating discrimination against rural women, and serves as a fundamental global mechanism for FAO's policy support to governments.
Article 14 of CEDAW, in particular, calls for member states to respect and enforce the rights of rural women as they relate to access to productive resources and participation in decision-making processes. In 2013, FAO began collaborating with IFAD, WFP and UN Women to support the formulation of CEDAW General Recommendation 34 on the rights of rural women. Adopted in 2016, the landmark recommendation clarifies state obligations to recognize, protect and promote the rights of rural women. It also provides suggestions for practical policy and programmatic measures that can enhance women's rights in the field of food and agriculture. SDGs




Beyond its direct support to government institutions, FAO also strengthens capacity and facilitates partnerships among key institutions in other sectors such as civil society, academia, and the private sector. And through a series of multiagency programmes, projects and mechanisms that leverage each agency's respective mandate, comparative advantage and institutional strength, the Organization works both within and across different countries on sustainable progress in gender equality and women's empowerment.
One UN in Pakistan
In 2013 for example, in the wake of severe flooding in the province of Sindh, Pakistan, FAO joined forces with UN Women and ILO on a One UN project for "Livelihood Restoration, Protection and Sustainable Empowerment of Vulnerable Peasant Communities in Sindh." During the project's three-year timeline, a total of 64 000 men and women in the districts of Dadu and Mirpur Khas benefitted from a series of integrated initiatives focusing on income and livelihoods restoration, skills enhancement and disaster risk reduction. FAO's on-farm activities helped improve agricultural production, irrigation systems and soil management, and around 3 000 men and women attended Farmer Field Schools and Women Open Schools. The project helped secure land tenancy agreements for some 2 400 landless farmers, over half of them women, and both men and women also received training in food preservation techniques for their own consumption and for sale. Many of the men and women farmers were also able to increase their income through the project's entrepreneurship and home-based work schemes. SDGs







"I went for [the] UN training programme. I received training there on how to set up a business, and manage and run a business — how to bring my product to market and how to sell. It was a great help to me." (Kaeynat, Dadu District, Sindh Province, Pakistan)
Accelerating Progress towards the Economic Empowerment of Rural Women
In another partnership — the UN joint programme on "Accelerating Progress towards the Economic Empowerment of Rural Women" (RWEE) — FAO worked with IFAD, WFP, and UN Women. Launched in October 2012, the five-year multiagency programme focused on empowering rural women in seven countries (Ethiopia, Guatemala, Kyrgyzstan, Liberia, Nepal, Niger and Rwanda), reaching a total of 41 890 participants (30 454 women and 11 436 men). By encouraging policy environments that are conducive to women's economic empowerment, and by helping to increase women's incomes and enhance their decision-making power, RWEE succeeded in improving food and nutrition security not only for the women but for their families and communities. SDGs



"Before, I had no money to properly feed my children or send them to school. Now, I produce enough for me and my family. I am happy that I can provide for their education and also pay for medical care." (Chandra Kala Thapa, Ranichauri, Sindhuli District, Nepal)
"The nice thing of being part of the [RWEE] Programme is that I am not the only one that learns, but my family and fellow women learn too; and not only the ladies in the Joint Programme, but other neighbors because they ask us what do we do to have orchards and other crops, and this makes me happy because now, I teach." (Zoila Esperanza Morán, Las Flores, Alta Verapaz Department, Guatemala)
About this site
This website reflects the consistent and sustained work of the Organization on gender equality and the empowerment of rural women, men, girls and boys. It highlights the relevance of gender equality and women's empowerment to addressing the challenges facing food security, agriculture and rural development, showcasing significant interventions and illustrating the impact of FAO's work at international, regional and country level, as well as for families, communities and rural men and women on the ground.