Traditional Hadong Tea Agrosystem in Hwagae-myeon, Republic of Korea
The Hadong traditional tea agriculture is a traditional agricultural system and culture of symbiosis-the product of Hwage-myun residents'1,200 years of adaptation to the barren environment of the mountainous terrain of Jiri Mountain nature.
The residents, aware of the significance of the natural environment, preserved characteristic agricultural technology and culture unique to the region without spoiling the traditional agricultural environment passed down from their ancestors. As such, Hadong's tea agriculture was developed in symbiosis with the residents in their everyday lives, recognized for its value as Korea'sImportant Agricultural HeritageSystems (KIAHS) in 2015.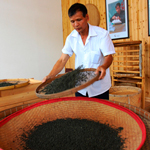 Tea: a love that has stood the test of time
In a world of cultural differences, is there one thing that can bind everyone together? Well, we all need to eat. Drink too, in fact. Interestingly enough, the drink most often chosen around the world after water, is tea. It is loved by millions from India to England, Afghanistan to Algeria - each culture with its own tradition. Read more