Uganda has experienced stable economic growth over the past 25 years and achieved the MDG target on halving the proportion of people suffering from hunger. However, unemployment and underemployment remain big challenges in the country, especially for the youth. Up to 95 percent of the youth are employed informally, and more than 30 percent are in subsistence agriculture.
Addressing the needs of youth is particularly urgent given that 76 percent of the population is below 30 years and that the annual population growth rate is still among the highest in the world (3 percent).
In particular, more can be done to fully harness the potential of the agricultural sector to create gainful youth employment. Both domestic and regional demand for agriculture commodities is rising, notably for more processed food and protein due to the rapidly increasing urban population. Already, food processing represents 40 percent of manufacturing activity in Uganda and diverse agribusinesses, particularly along the dairy, maize and coffee value chains, have developed in recent years, linking farmers to inputs, markets and finance.
See also: ICA Uganda Rapid Context Analysis at: www.fao.org/3/ca5739en/ca5739en.pdf
ICA priority entry points
In collaboration with the Ministry of Agriculture, Animal Industry and Fisheries (MAAIF) and a multi-stakeholder Technical Working Group (TWG), support the implementation of the National Strategy for Youth Employment in Agriculture (NSYEA). Map ongoing NSYEA-related interventions to assess progress and support needs.
Generate knowledge on youth opportunities in the coffee value chain and rural youth financial inclusion.
Accompany MAAIF to replicate and upscale the Youth Inspiring Youth in Agriculture (YIYA) initiative, launched in the previous ICA phase, with the aim to identify additional Youth Champions in the agricultural sector.
Continue to support existing youth groups and networks like the Young Farmers Champions Network (YOFCHAN) and the Young Farmers Federation of Uganda (UNYFA).
Farmer champions adjusting to remote work
The Young Farmers Champions Network (YOFCHAN) is an association of successful young farmers and entrepreneurs promoting agriculture as a cool and profitable business to inspire fellow Ugandan youth.
In this video Tumwebaze Khamutima, seedling producer and founder of YOFCHAN, shares how movement restrictions affected his business but also the organization's project delivery. YOFCHAN members have shifted to teleworking using videoconference and digital communication channels and are trying to engage young farmers using the same tools. He calls for tax/loan waivers for young farmers and invites other farmer organizations to work together to create awareness about COVID-19.
Facilitating access to basic services and information
Khainza Energy is a youth-led company committed to reducing Ugandan households' reliance on wood fuels by enabling the adoption of biogas as a clean, affordable and sustainable alternative. They package biogas in recyclable cylinders and provide trainings to youth and women. For its efforts to reduce emissions, the company won the 2018 SEED Low Carbon Award.
In this video Arthur Woniala, co-founder and project engineer at Khainza Energy, shares his company struggles and explains how they are limiting physical contact by collecting orders via social media and accepting mobile money payments. While they look at new ways to deliver their #BiogasTrainingProgram online, they are disseminating information about COVID-19 through the company website and their home deliveries.
Keeping young organic producers in business
Farmer Investment Opportunities and Market (FIOM Uganda) is an agribusiness consultancy and marketing company established in 2017. FIOM mobilizes youth through producer clubs and equips them with the entrepreneurial skills they need to profitably engage in agribusiness. They regularly manage an online grocery store, Organo basket, specifically designed to market organic foods and vegetables.
In this video Moses Katuro, managing director of FIOM, explains how Covid-19 has affected their business operations. With the lockdown, supplies from the youth producer clubs have been cut off and left them with no market, as organic agriculture is still a niche market in Uganda. FIOM is trying to acquire a van for collecting directly from those youth and ensure they keep producing.
⇒ See another video testimonial of a FIOM agronomist from Zirobwe-Luwero district
Young agripreneurs key for food security
Sunday Salveri is a fish farmer in Kasese district, and one of the Youth Champions awarded by FAO and MAAIF as part of the Youth Inspiring Youth in Agriculture initiative.
In this video, Sunday explains his business dilemma. Due to income loss from farm production, processing and retail he has not been able to afford the costs of his six farm workers and now struggles to carry out all the work by himself and protect the farm from thieves while he is away.
He calls upon the government and development organizations to support young agripreneurs as long-time partners to ensure food security in the country. He suggests a revision of the curfew hours or a lift on the transport ban as well as feed supplies or local processing machines, to bring down the cost of farm inputs.
Staying connected to support agrifood SMEs
The Africa Agribusiness Academy (AAA) is a pan-African business platform for small and medium-sized agrifood enterprises. Operating through country chapters - in Uganda, Kenya, Tanzania, Rwanda, Malawi, Ethiopia - the AAA supports entrepreneurs by offering capacity development opportunities as well as marketing, communication and networking support and facilitates collaboration and mutual learning of all members.
In this video, Ssengendo Lawrence, Programs Manager of AAA, remarks how due to COVID-19 youth in agribusiness are confronting higher costs (for transportation of inputs to the farms and produce to the market) in the face of lower demand, as buyers are losing purchasing power. As an organization, AAA started to work from home, keeping in touch with their youth members via Skype, WhatsApp or phone calls, although planned activities such as trainings have been postponed.

Rural youth calling for online mentorship and counselling
Dokolo Community Action for Rural Transformation (DOCART) is a youth-owned and managed small grassroots group operating in Dokolo district, Northern Uganda. The organization's goal is to support self-empowerment of members to reduce household poverty, increase food security, improve nutrition and strengthen resilience to shocks using community assets like people, groups, associations, physical, natural and financial capital.
DOCART was pursuing its business plan to establish a 500-hive bee keeping social enterprise focusing on increasing honey production, diversifying into other hive products, manufacturing hives and equipment, and establishing a demonstration/training center. Due to COVID-19, the youth involved in DOCART honey production now face several challenges:
Transport limitations: Most farmers do not have trucks to deliver their produce or buy necessary farming equipment. The youths are currently unable to bulk and process their honey or package it. As a result, their produce gets wasted leading to food and financial losses.
Reduced markets and market prices: Big market players such as schools and hotels have been closed. Prices of farm produce have greatly dropped because of low consumption. For example, many consumers have stocked dry foods compared to daily purchase of fresh foods.
Reduced income: Earnings from agricultural produce has greatly been affected because many working-class people have been laid off reducing purchasing power. Farmers are now producing for home consumption basically.
Reduced social capital: Social distancing and stay at home guidelines make it hard for people to attend village saving and loan association meetings, thus reducing the savings.
To cope with these issues, the rural youth have derived the following strategies:
Low scale production/farming: Instead of producing on a large scale, the youth have resorted to small scale farming to cope with the situation as well as for sustainability purposes. DOCART work plan and targets for 2020 have been revised downwards.
Laying off non-essential workers: Some of the non-essential workers have been laid off to cut down expenses. However, this is affecting their households especially when they are not part of the government general food distribution.
The Mt. Atlas Horticulture Initiative Organization Ltd (MAHIO) is a youth-led organization mentored by the East African Farmer Organization (EAFF) that gathers and organizes small agricultural business in Kamuli district. Since the lockdown in Uganda, the demand for their products decreased as few customers are having access to the commodity and most of their businesses closed as they have inadequate funding to cater for all their farmers' needs in the farms.
Due to the curfew and movement restrictions in the country, the management of MAHIO is working from home, with increased expenses in the face of income loss. They have limited access to their offices, are unable to conduct regular checks on their farms and cannot hold farmer group meetings. Access to transport is scarce for the farmers who live far from town: they do not own a means of transportation, cannot be carried on someone else's motorcycle (currently not allowed) and cannot afford a boda boda. This significantly reduces their possibility to access agricultural inputs, as shops are located some 20km away from the farmers villages. In the long run this challenging situation can lead to increased food insecurity, hunger and gender-based violence.
The management of MAHIO wishes to maintain the agribusiness alive by supporting their farmers and keeping food production to the maximum, in order to comply with agreed provisions and retain contracts with buyers. MAHIO is seeking support in terms of training (on financial management and credit saving, agribusiness management, agronomy, records keeping), financial assistance (e.g. grants, donations, loans, investments) and transport means. They anticipate their businesses will need at least 6 months to recover.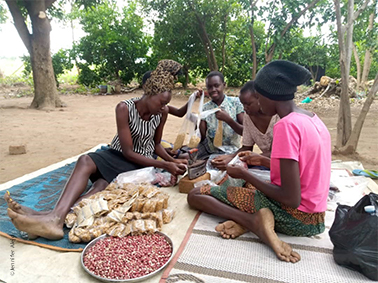 Jennifer: the fragile welfare of young bread winners
Jennifer Alejo, aged 32, works with a group of 30 youths and volunteers based in Soroti, in the Eastern Region of Uganda. They run an agribusiness called Nyamiz Organics dealing with production and value addition of ground nuts, sesame and soya beans grown in Soroti and neighbouring districts.
Since the COVID-19 lockdown was enforced, her business is being challenged mainly by the high transportation costs of raw materials from the rural areas and packaged materials from the capital Kampala, as well as for product distribution to customers. This is causing lower supplies, difficulties in accessing inputs like seeds, but also damages to the products in stock. Significant loss of income is caused by a reduced number of buyers, as most of their clients are school children and lower-class people who are currently experiencing financial constraints.
Some of the youth working with Jennifer are single mothers and young bread winners whose families are now struggling to afford basic household needs. Unemployment of young people in the farms and as distributors might induce negative behaviours as some youths may resort to rubbery and drug abuse. The widespread fear for personal health and safety in her community, is therefore accompanied by panic and unrest for longer lockdown periods which would worsen the situation.
To cope with the crisis, Jennifer along with few other members of Nyamiz Organics are carrying on with production at a smaller scale, asking for help to family members including school children currently out of school. To contain transport costs, product delivery is currently done either by feet (nearby production points) or paying boda boda cyclists to reach trading centers.
Support needed to face the emergency includes provision of basic means of transportation and seeds for the incoming season, continued sensitization to reduce fear among farming communities, assistance to build a storage facility to reduce the need for frequent purchases of raw materials and increase preparedness in view of future crises.
Alli: time for thinking out of the box and empowering youth champions
Alli Acidri is a Youth Champion engaging in honey production and processing and supporting other youth-led agribusinesses in Arua, Northern Uganda. Following the #StayHome directive which restricted movements throughout the country, they have suffered from:
Limited movement. This has curtailed communication and information flow, which is vital in conducting business.
Loss of market. The lockdown has totally disrupted marketing activities as markets, hotels and restaurants are closed, so there are no buyers for their produce.
Increased costs. The cost of preserving/maintaining unsold agricultural produce will erode all the profits pushing businesses into a major loss. For instance, sales that were planned for the Easter festive seasons were disrupted. Also, the available input prices have all increased as a result of restricted movement and precautionary input stocks mean additional cost of production.
Uncertainty. The general uncertainty affects business planning.
Alli and other youths are organizing their work to survive the crisis trying to think quickly and outside of the box:
Alternative markets. Even with the lockdown crisis, people need to eat so there is an opportunity to look for alternative markets, such as domestic consumers.
Reduced margins. Rather than losing the whole sales, dropping prices can be a good strategy to recover the capital investment.
Reduced operational costs. Under the circumstances, temporarily laying off some labour and/or using domestic labour can help cutting down some of the operational costs.
Home-based working. Where necessary, people can work from home contacting potential buyers on phone and finding ways of making home deliveries using boda bodas.
A government intervention is expected soon to relax the movement restrictions for businesses to operate, considering in particular many youths and other workers who do not have savings to live on. In the immediate aftermath of COVID-19, financial and other kinds of supports will be needed for youth to restart their businesses. In the medium term, the response will require strengthening the Youth Champions structures and empower them to reach more rural youths with stimulus packages that can be followed through to implementation.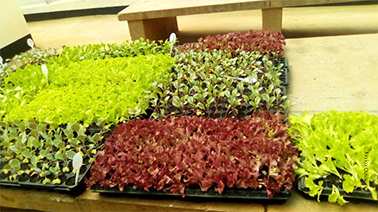 Juuko: learning lessons for business resilience
Juuko Davis is a 22-year-old horticulture student living in Kawempe, in the city of Kampala, who started a vegetable growing business focusing on lettuce production.
When the lockdown and movement restrictions were enforced, she had just transplanted 1,600 heads of lettuce in Gayaza (some 12 km from Kampala). Neither her nor her employees have been able to travel to the farm site and monitor properly the growth of the crop. For the future, she wants to grow lettuce throughout the year, in order to curb seasonal losses like those caused by the COVID-19. She would welcome technical advice on alternative markets for her vegetables and on the different actors of the value chain, including transportation and distribution.
Juuko also runs a home-based cake bakery but it has become hard for her to move or buy the supplies needed. All her cake orders for March and April have been cancelled because clients are saving for more basic needs. She wishes to receive information on the requirements to open a confectionery shop so she can stock the supplies needed to bake while her customers can easily locate her.