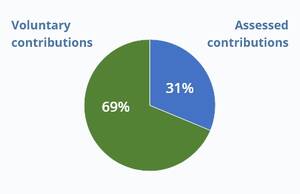 Results-based management
FAO uses results-based management. This is an approach that integrates strategy, people, resources, processes and measurement to improve decision-making while increasing transparency and accountability. The focus is on measuring performance against goals, learning from experience and adjusting to new conditions, reporting outcomes, and achieving objectives.
How is FAO funded?
The total FAO Budget planned for 2022-23 is USD 3.25 billion. Of this amount, 31 percent comes from assessed contributions paid by member countries, while 69 percent is expected to be mobilized through voluntary contributions from Members and other partners.
How does FAO allocate its assessed and voluntary contributions?
FAO's overall programme of work is funded by assessed and voluntary contributions. Member countries' assessed contributions comprise the regular budget, set at the biennial FAO Conference. The FAO regular budget for the 2022-23 biennium is USD 1,005.6 million.
The voluntary contributions provided by Members and other partners support technical and emergency (including rehabilitation) assistance to governments for clearly defined purposes linked to the results framework, as well as direct support to FAO's core work. The voluntary contributions are expected to reach approximately USD 2.25 billion in 2022-23.
FAO's cost recovery policy
OSP develops and monitors the implementation of the Organization's cost recovery policy as decided by FAO Governing Bodies. The Policy is designed to ensure that FAO's costs are correctly measured and distributed among all funding sources, consistent with UN-system policy and UN General Assembly-encouraged practices. It enables the Organization to efficiently deliver its Programme of Work under all sources of funds, delegate decision-making and implementation to the country level, and provide for improved transparency, equitability and accountability to Members and partners in presenting project costs. The Policy aims to strengthen FAO's ability to deliver on its mandate, using resources efficiently and supporting the relationship between FAO's normative and development work. It supports the decentralization policies that enable decision-making and strengthen activities at the country level. The current methodology for categorizing and measuring costs ensures that charges closely reflect actual project costs.