Markets for Restaurants, Catering and Food Service
Large corporate restaurants, caterers, and food service operators carry significant buying power and can influence market trends when it comes to the wider acceptance and use of off-spec produce, and thus reducing food loss and waste (FLW).
Off-spec produce, used as a lower-cost substitute for retail-grade, cosmetically perfect food, lowers input costs without sacrificing quality in a restaurant setting. Restaurants can set up pilots to partner with individual farmers and distributors to assess the financial benefit of utilizing imperfect produce.
Findings from a study of the UK retail sector found that FLW is more likely associated with fresh and chilled products. That species with high volume of sales will give rise to lower waste levels and that lower volume or higher value products may be associated with higher waste levels.
An example of how the catering industry has tried to influence the general public's perception of food waste is captured by the documentary film Wasted! The Story of Food Waste. Featuring well know chef's, this also includes information on the better utilization of fish and fish products.
More Resources
More Resources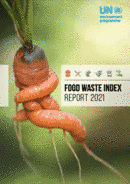 In complement to the Food Loss Index, developed by FAO, the Food Waste Index covers the later stages of food's journey – food waste – occurring at household, food service and retail level.

Some restaurants and food establishments have resumed their business operations despite the fear of a new wave of infections. To ensure safety, the resumption of the restaurant and catering sector has been in line with...

Due to the COVID-19 pandemic, many people have decided to stay home and reduce social interactions, resulting in an increased popularity of food delivery.