Services and Infrastructure for Restaurants, Catering and Food Service
Appropriate services and infrastructure are a key component to reducing food loss and waste (FLW) in restaurants, catering, and food service.
Purchasing must correctly interpret what ingredients are required and ensure availability in time for production. Kitchen staff must prepare the food on time, keeping food costs, quality, safety and quantity in mind. Purchasing and production are part of a complete system that revolves around the menu. For larger companies, kitchen management software can save large sums of money, but for smaller or independent operators it's often not necessary and very expensive. Purchasing software programs provide valuable information about the planning, purchasing and ordering process. They use powerful formulas, analyse historical and forecasted usage for each item: seasonal trends, market demand, and reservation lead times to provide suggested purchase orders.
The easiest form of recycling is selective waste sorting if the logistical system is in place. Some governments encourage this with subsidies and other benefits, others get no support unless it is paid for.
Get food waste collected for anaerobic digestion or composting, as an alternative to being sent to landfill. This can help save money if land fill taxes are in place.
The European Event Caterer Association (EPCAS) is an example of an organization which is coordinating and supporting its members in matters related to food loss and waste. It has produced the Food Waste Toolkit to help members reduce their food waste within their catering practices. The toolkit includes several attachments that help collect data and stimulate the staff members.
More Resources
More Resources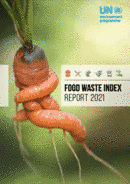 In complement to the Food Loss Index, developed by FAO, the Food Waste Index covers the later stages of food's journey – food waste – occurring at household, food service and retail level.

Due to the COVID-19 pandemic, many people have decided to stay home and reduce social interactions, resulting in an increased popularity of food delivery.

This website provides information on how to support the achievement of the SDG.3 target on food waste and maximise the contribution of all actors.