Application of Appropriate Technology for Restaurants, Catering and Food Service
Technology can be used to help control food loss and waste (FLW) in restaurants, caterers, and food service establishments. Ensuring refrigeration systems are efficient and maintained is particularly important where fresh and shellfish are used.
Waste Tracking & Analytics
Tracking food thrown away could cut food costs by 2 to 6% by increasing awareness of food waste within the company and focusing attention on front- and back-of-house prevention activities. Best practices include:
Conduct a food waste audit to establish a baseline. Strong data makes the case for investing in food waste prevention efforts and wins buy-in from the executive team and food service staff.
Consider waste tracking systems that capture: the weight, type, and source (e.g., spoilage or overproduction) of food waste, and use the information to improve kitchen operations (e.g., reduce prep trim and overproduction). Some waste tracking systems will convert the data into cost (money lost) based on the amount and type of food waste.
Track both pre- and post-consumer food waste and use that data to adjust operating procedures, update training materials, and make menu changes.
Processing food waste on site
Processing food waste on site
Some food waste is unavoidable, yet finding alternatives to landfill makes sound business sense. Landfill tax has been rising steadily. According to the Waste and Resources Action Programme (WRAP), sending food waste for anaerobic digestion, for example, rather than landfill is currently £40 cheaper per tonne. That's one good reason why on-site recycling systems are growing in popularity.
The systems available include food waste disposers, dewaterers and in-vessel composting units – each offering a different solution for disposing of food waste. From reducing the weight of the food or disposing of it down the drain, through to producing your own compost, all three solutions help individual HORECA (Hotel/Restaurant/Café) and hospitality businesses tackle food waste in a way that suits them.
IT platforms in Italy
IT platforms in Italy
In recent years a growing number of initiatives focused on the food waste issue have been launched in Italy. At least 20 different IT platforms (applications for mobile phones and / or web platforms) expressly aimed at reducing food waste were launched; at least 17 different projects were launched to encourage the use of the doggy-bags in the catering sector; initiatives for the recovery of surplus food for charitable purposes, communication campaigns and school targeting education/awareness-raising projects, to name but a few examples, have all multiplied.
More Resources
More Resources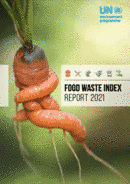 In complement to the Food Loss Index, developed by FAO, the Food Waste Index covers the later stages of food's journey – food waste – occurring at household, food service and retail level.

Some restaurants and food establishments have resumed their business operations despite the fear of a new wave of infections. To ensure safety, the resumption of the restaurant and catering sector has been in line with...

This website provides information on how to support the achievement of the SDG.3 target on food waste and maximise the contribution of all actors.