Restaurants, Catering and Food Service
Restaurants, catering and food service have a vital role to play in reducing food loss and waste (FLW) – from how they source produce and develop menus to how they manage left-overs and customer plate waste.
Reducing food waste is one of the biggest challenges for the HORECA (Hotel/Restaurant/Café) and hospitality industry world-wide. In the UK alone, over 4 million tonnes of organic waste is thrown out every year. The food we throw away is a waste of valuable resources; it is expensive to buy and dispose of. Food has a high carbon 'footprint,' and it requires considerable energy to produce, harvest, transport, process, package, retail and prepare and consequently has a serious impact on our planet.
Food providers in gastronomy, catering and hospitality have recently come under increasing scrutiny over their food management practices, and specifically food waste, with evidence that considerable amounts of food are wasted during preparation, or because they cannot be stored and reused. Waste management has thus become a key priority, referring to all the activities related to avoiding, reducing or recycling waste, throughout the production and consumption chain.
Types of Food Service Operations
A restaurant is a business that prepares and serves food and drinks to customers. While meals are generally served and eaten at the establishment, many restaurants also offer take-out and delivery services. Service models can range from inexpensive fast food restaurants and cafeterias, to mid-priced family restaurants, to high-priced luxury establishments.
Caterers prepare and provide food and other services, such as tableware and linens, at a remote site. Catering jobs can vary from small to large events which might be set in a multitude of locations, such as a home, hotel, business, or entertainment site. Caterers may be independent operators, or a part of a restaurant.
Food service is a general term for businesses, institutions, and companies responsible for any meal prepared outside the home. This can include restaurants, school and hospital cafeterias, catering operations, among others.
The key causes of FLW at the restaurant, catering and food service level are:
Over-buying
Incorrect shelf and fridge / freezer storage
Poor stock or inventory rotation
Inadequate labelling
Over-portioning
Customers order more than they need
Set amounts (i.e. ordering up to 20 when you only have 5 people)
Poor ordering of perishable items
Poor planning, prepping too much
Quality deterioration during chill or cold storage
It should be noted that food waste in restaurants, catering and food service consider all foods (meat, fish).
Food waste at this stage in the value chain can further be divided into 5 distinct types according to its origin:
Storage loss – food thrown away from storage (e.g. spoiled products, loss of quality, food exceeding a use-by date, damaged products
Preparation loss – foods discarded during food preparation and cooking
Kitchen leftovers (surplus production) – prepared food which is never served (e.g. food remaining in the cooking pots, prepared food which was dropped, overcooked or burnt food, excess food)
Buffet table leftovers (or serving loss) – food remaining from the buffet and serving bowls at the counter
Plate leftovers – residues left on consumers' plates
Strategies for Reducing Food Waste
Strategies for Reducing Food Waste
There is no "one-size-fits-all" fix for reducing food waste in restaurants, catering and food service. A limited-service restaurant — where customers pay before they receive their food and often eat off premises — can generate less food waste than a full-service restaurant, where chefs create specials and seasonal menus and where raw ingredients are often cut, trimmed and prepared onsite. Engagement and awareness at the management level on the benefits of food waste reduction can help integrate best practices into the culture of the business, meet sustainability goals, and improve staff motivation and retention.
Successful waste-reduction strategies tend to connect economic growth with food waste prevention strategies, so that the time and work spent implementing food waste strategies are in line with profitability goals. Food service operations often have the flexibility to work with farms and outside groups to implement creative food waste solutions such as using imperfect produce on menus or rotating dishes to accommodate seasonal produce. Efforts are often strengthened by providing employees with knowledge about reducing food waste.
Key Publications
Food waste management innovations in the foodservice industry

This paper presents multiple waste management initiatives, discusses how implementation in the foodservice sector varies depending on management's beliefs, knowledge, goals and actions, and highlights factors that drive the adoption of food waste innovations.

Food waste prevention in tourism and food preparation

Includes discussion of a project to reduce the amount of food waste in the selected hotels and catering business and subsequently to provide guidelines for food waste prevention in this business sector.
More Resources
More Resources

One of the major issues prevailing in the fisheries and aquaculture industry in Sri Lanka is the high loss and waste of fish, and it has become necessary to introduce strategies aimed at preventing and...
This study aims to improve understanding of how green and digital technologies could be used to reduce consumer food waste and what could be done to further unlock this potential.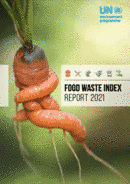 In complement to the Food Loss Index, developed by FAO, the Food Waste Index covers the later stages of food's journey – food waste – occurring at household, food service and retail level.