Equitable Social and Gender Environment for Restaurants, Catering and Food Service
Understanding the behaviour of different types of consumer will help target strategies for food loss and waste (FLW) reduction in restaurants, catering, and food service. An EU study found a variety of results, expressed in terms of odds ratios, and regarding the individual characteristics, perception and attitudes that influence food waste:
Older people, aged 65 and over, are less likely to waste food than younger people.
Females are less likely to waste food than males.
Developing education materials and training for staff on food waste causes and solutions can win buy-in from staff, build staff pride and loyalty, and improve staff retention rates. Create manuals with well-defined waste management procedures, and hold regular training sessions, "pre-meal" meetings, and awareness-raising activities (e.g., an annual Food Waste Week). Other positive actions can include incentivizing staff by rewarding food waste reduction achievement (e.g., linked to waste tracking) and establishing a formal suggestions structure or other mechanisms for staff to give feedback on waste reduction up the management chain.
More Resources
More Resources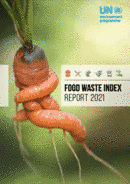 In complement to the Food Loss Index, developed by FAO, the Food Waste Index covers the later stages of food's journey – food waste – occurring at household, food service and retail level.

This website provides information on how to support the achievement of the SDG.3 target on food waste and maximise the contribution of all actors.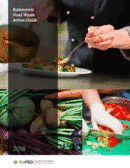 This guide is for restaurant sustainability directors, owners, and others in leadership roles in the U.S. restaurant industry involved in creating or monitoring food waste reduction strategies.