Skills and Knowledge for Restaurants, Catering and Food Service
Some of the key skills and knowledge required to prevent and reduce food loss and waste (FLW) in restaurants, catering, and food service include:
Understanding the different reasons of food waste
Effective waste management using the three R's: Reduce, Reuse and Recycle.
Waste Audits
Food stock management (ordering minimum stock, rotating stock)
Food labelling
Menu planning and portion control for minimizing waste
Effective purchasing
Careful food preparation and use of trimmings and the whole fish
Portion control to reduce waste and increase profitability
Disposing of waste cost-effectively and in environmentally friendly ways
Chilling and chilled storage
Freezing and frozen storage
Regulatory requirements for food waste disposal
Food donation principles and protocol
Temperature monitoring
Good hygienic practice
Food waste tracking and analytics
FLW Skills and Knowledge Control Measures
FLW Skills and Knowledge Control Measures
According to the Champions 12.3, five FLW knowledge and skills control measures are:
Measure - Generating a "food waste inventory" enabled sites to identify how much and where food was wasted, so managers could prioritize hotspots and monitor progress over time.
Engage staff - Kitchen and service staff often want to help prevent food waste, but need more definition and guidance from leadership.
Start small and get creative - Starting with a small-scale pilot phase allowed caterers to trial solutions and gradually expand the scope of a program, giving adequate time for peer learning. Pilot programs also allow on-site kitchen staff to develop some of the most creative and effective strategies to combat waste. Food service operations can also learn from others' past experiences and scale up solutions quickly.
Reduce overproduction - Many sites had at least one menu item that was consistently under-consumed. By simply producing smaller quantities of these items, sites prevented waste without negatively impacting the customer experience.
Repurpose excess food - Having a "Plan B" for how to safely repurpose leftovers allowed kitchens to generate revenue from this potential waste. For example, unsold fish from lunch may be a potential ingredient for a dinner dish.
Educating customers and staff about how to prevent or reduce FLW using is another strategy to use to influence customer behaviour. Food service managers can work with customers to gain better understanding and insight into the event. For example, catering managers can discuss the issue of food waste prevention in the original offer, and coordinate with the customer to understand guest structure (e.g. age, proportion of female/male, number of vegetarians), the occasion of the catering (e.g. meeting or celebration), and the final number of guests. Use standardized recipes for the calculation of the food quantities, and reduce the common extra amount of food from 30% to 10–20%. Inform and alert entire kitchen and service staff for the subject of preventing food waste right before each catering event.
Best Practices for Food Waste Reduction
Best Practices for Food Waste Reduction
Menus can be designed with food waste reduction in mind. For example, consider minimizing the range of ingredients used across dishes to maximize opportunities for cross-utilization and use different parts of a single ingredient (e.g. fish) in multiple menu items. Train all new culinary team members in optimizing food preparation, batch cooking, specific portion sizes, cross-utilization and repurposing of food trim and excess food. Incorporate ingredients from standard menu items into specials or "limited–time offer" promotional items to reduce over ordering of limited-use food items.
Developing educational materials and training for staff on food donation procedures and liability can also win buy-in from staff, build staff pride and loyalty, and improve staff retention rates. Food donation organizations can also assist with the development of these materials.
More Resources
More Resources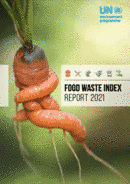 In complement to the Food Loss Index, developed by FAO, the Food Waste Index covers the later stages of food's journey – food waste – occurring at household, food service and retail level.

Due to the COVID-19 pandemic, many people have decided to stay home and reduce social interactions, resulting in an increased popularity of food delivery.

This website provides information on how to support the achievement of the SDG.3 target on food waste and maximise the contribution of all actors.