FAO's work on Geospatial
Agriculture, globally provides direct livelihoods for 2.5 billion people and feeds the entire planet. It must, by 2050, produce 49 percent more food than in 2012 as populations grow and diets change. Yet climate change, biodiversity loss, land degradation, water scarcity, pollution and many other challenges are hampering these efforts to feed the planet.
The undertaking under the 2030 Sustainable Development Agenda is for everyone to address these issues; it is clear however that no meaningful and effective action can be taken without sound and timely data to inform and guide decision makers. This is why geospatial data, methods and tools - simply defined as information with a geographical component - is relevant for agriculture.
FAO has more than 30 years of experience in the development and use of geospatial data, methods and tools, which are applied to national, regional and global sustainable development planning and implementation. FAO helps countries implement appropriate geospatial solutions, that can assist their efforts to create sustainable food systems. This work is organized and delivered to developing countries through projects and programs carried out both at HQ and regional, sub-regional, and national offices to ensure that best practices and standards are adopted and implemented.
Recent publications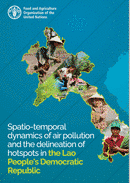 In this report, the air pollution dynamics of the Lao People's Democratic Republic are investigated given its increasing industrial and economic development, and the employment of frequent biomass burning as an agricultural practice. The Lao...

An analysis to assess the impacts of floods on cropland in Eastern Cape province was performed using existing data, GIS and remote sensing. The crop mask was derived from the South African National Land...