The Project's work on ICTs to increase access to market prices and climate risk information for small potato farmers in Rwanda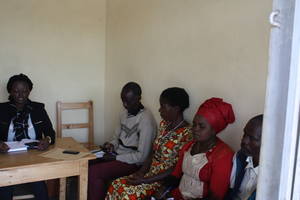 03/07/2018
Rome, HQ
In Rwanda, one main constraint limiting the development of the potato value chain is related to a lack of reliable information on the prices of potatoes and quantities available in the market which makes forecasting costs of processors difficult, a constraint which is outside the direct control of the firm. Furthermore, the impact of climate change is putting unprecedented stress and threats on the livelihoods of potato farmers in north-western districts of the country. Reducing climatic risks require robust and innovative tools that can help producers and relevant institutions to make pro-active decisions and adjustment of their activities.
Against this background, the FAO African Roots and Tubers (ART) project and the Agricultural services and digital inclusion project are sharing the objective of improving access to market prices and climate risk information for small actors in Rwanda. A collaboration between the two projects has been established to provide small farmers with innovative digital services in four districts of the country affected by recurrent floods and landslides.
Through mobile services (both SMS and progressive web-app "PWA") related to "AgriMarketplace" and "Weather and Crop calendar" developed by the Agricultural services and digital inclusion project, in the coming months 90 smallholders in Rwanda supported by the ART project will be provided with timely, context-specific market and climatic information.