Providing access to land and water resources is fundamental to ensure local and national food security, especially in conditions of water scarcity, climate change and increased competition. Water is a vital resource for people's livelihoods. It is important to manage it efficiently and equitably. Water accounting and water tenure assessment provide a comprehensive understanding of the availability and access to water resources needed to manage water sustainably.
Read more about the project >>>
Learn more about the results and activities in each country >>>
KnoWat stories from the field
Harnessing source of life in Rwanda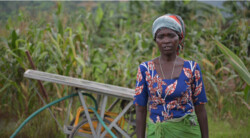 The Yanze catchment is a source of life for its over 68 100 inhabitants: the water from the catchment is used for drinking, cooking and bathing, and for agriculture. Most of its rural population are vegetable farmers, and around 40 percent are considered as poor. From 2019 to 2022, the KnoWat project worked together with Action for Environment Protection and Promotion of Agricultural Sector (APEFA) to tackle water scarcity and improve local water management solutions in the Yanze catchment.
Senegal: Poems and a project for peace
Fishermen from Ngaolé, next to the Senegal River, navigate the river occupied by crocodiles, but they are not afraid since the water spirits protect them. This protection is needed now more than ever as communities face new challenges from climate change, prolonged droughts and population growth. The KnoWat project conducted a water tenure assessment in the basin to improve the equitable allocation of water resources.
Reaping the fruits of data in the paddy in Sri Lanka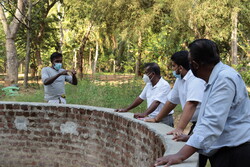 In Sri Lanka, the 164-kilometer long Malwathu Oya river is the second longest river in the country and a lifeline for people living nearby. The river's southern catchment supports around 200 000 local people, who are mostly engaged in farming, providing them with water for drinking, sanitation, hygiene, and to irrigate their paddies. The KnoWat project conducted a water accounting and auditing assessment in the area to improve water resources management.