Providing access to land and water resources is fundamental to ensure local and national food security, especially in conditions of water scarcity, climate change and increased competition. Water is a vital resource for people's livelihoods. It is important to manage it efficiently and equitably. Water accounting and water tenure assessment provide a comprehensive understanding of the availability and access to water resources needed to manage water sustainably. Read more.
Harnessing source of life in Rwanda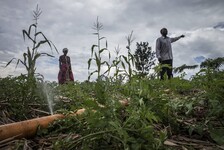 From 2019 to 2022, the KnoWat project worked together with Action for Environment Protection and Promotion of Agricultural Sector (APEFA) to tackle water scarcity and improve local water management solutions in the Yanze catchment.