Free, Prior and Informed Consent (FPIC) is a specific right that pertains to indigenous peoples and is recognised in the United Nations Declaration on the Rights of Indigenous Peoples (UNDRIP). It allows them to give or withhold consent to a project that may affect them or their territories. Once they have given their consent, they can withdraw it at any stage. Furthermore, FPIC enables them to negotiate the conditions under which the project will be designed, implemented, monitored and evaluated. This is also embedded within the universal right to self-determination.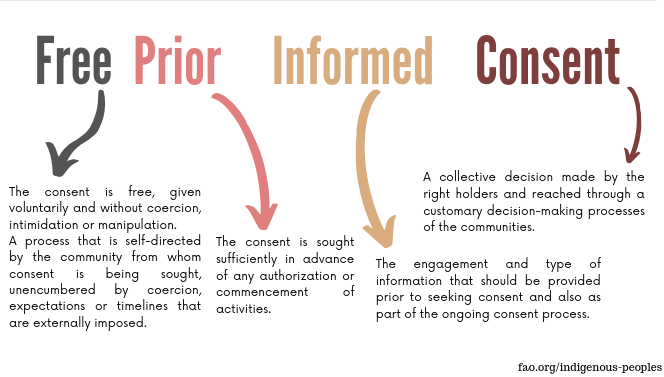 This toolkit is designed to provide guidance to FAO staff on how to implement the FPIC process. In contains both informative and operational documents. You can contact [email protected] for further information.

The FPIC E-learning course is available online, the course focuses on how to practically operationalize the indigenous peoples' right to Free, Prior and Informed Consent (FPIC) throughout all stages of the project cycle. The course is primarily intended for professionals directly engaged in the development and implementation of projects involving indigenous peoples. Available in English, French & Spanish
International normative framework
The normative framework of FPIC consists on a series of legal international instruments including the United Nations Declaration on the Rights of Indigenous Peoples (UNDRIP), the International Labour Organization Convention 169 (ILO 169), and the Convention on Biological Diversity (CBD), among many others, as well as national laws.
FAO and Free, Prior and Informed Consent
In line with the international legal framework, FAO has developed a Policy on Indigenous and Tribal Peoples that ensures the organization makes all due efforts to respect, include and promote indigenous issues in relevant work. The core principles of the policy are: self-determination; the respect for indigenous knowledge, cultures and traditional practices that contribute to sustainable and equitable development; and Free, Prior and Informed Consent. The policy is operationally reflected on FAO Environmental and Social Management Guidelines and the Guide to the Project Cycle which guide all field operations.
In October 2016, FAO launched the Free, Prior and Informed Consent Manual, a practical tool that provides information about FPIC and how to incorporate it the design and implementation of any development project or programme. It outlines essential steps to follow along the lifecycle of a development project, from identifying which communities need to be consulted to sharing achievements after the project has been completed.
The Manual is the result of one year of collaboration between FAO and partner organizations including Action Aid, Action Against Hunger, Agencia Española de Cooperación International para el Desarrollo (AECID), Deutsche Gesellschaft für Internationale Zusammenarbeit (GiZ), the International Federation of Red Cross and Red Crescent Societies (IFRC) and World Vision.