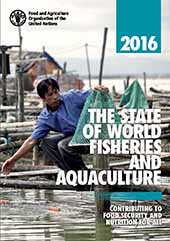 The State of World's Fisheries and Aquaculture 2016
Contributing to food security and nutrition for all
This issue of The State of World Fisheries and Aquaculture aims to provide objective, reliable and up-to-date data and information to a wide range of readers – policy-makers, managers, scientists, stakeholders and indeed all those interested in the fisheries and aquaculture sector. As always, the scope is global and the topics many and varied. This edition uses the latest official statistics on fisheries and aquaculture to present a global analysis of trends in fish stocks, production, processing, utilization, trade and consumption. It also reports on the status of the world's fishing fleets and analyses the make-up of human engagement in the sector.
Key Messages
World aquaculture production continues to grow and now provides half of all fish for human consumption.
The 2030 Agenda for Sustainable Development, the Sustainable Development Goals (SDGs), and the Paris Agreement will have a strong influence on the fisheries and aquaculture sector, and the sector must play its part in order to achieve their stated societal, economic and environmental aims.
The FAO Agreement on Port State Measures to Prevent, Deter and Eliminate Illegal, Unreported and Unregulated Fishing is expected to be a major advance in combating IUU fishing.
Twenty years on from its adoption, the Code of Conduct for Responsible Fisheries remains an internationally accepted benchmark and framework for the sustainable use of aquatic resources.
There is growing recognition of the great potential of the oceans and inland waters to contribute significantly to food security and adequate nutrition for a global population expected to reach 9.7 billion by 2050.
The Second International Conference on Nutrition confirmed the importance of fish and seafood as a source of nutrition and health for many coastal communities, and especially during the "1 000 day window".
About the series
The State of World Fisheries and Aquaculture (SOFIA) is the flagship publication of the FAO Fisheries and Aquaculture Department. This premier advocacy document is published every two years to provide policy-makers, civil society and those whose livelihoods depend on the sector a comprehensive, objective and global view of capture fisheries and aquaculture, including associated policy issue.
For further information, contact [email protected]