EBRD and FAO continue raising food safety standards in Serbia while preserving traditions
Serbian smallholders welcome new food safety flexibility measures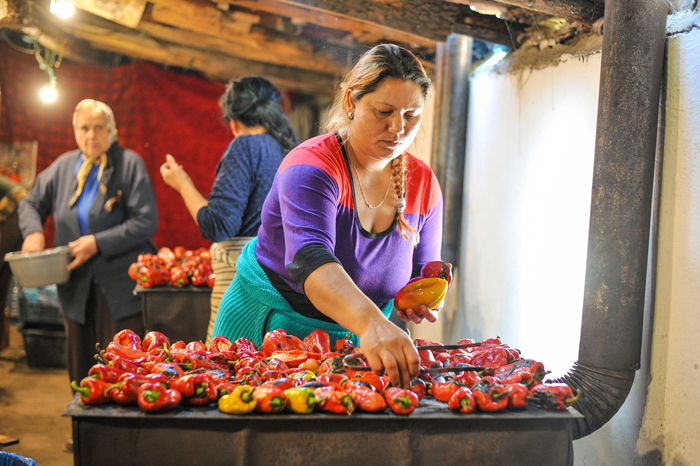 05/04/2020
Serbia's new bylaws are in line with EU hygiene legislation

FAO and EBRD guidelines aim to help small-scale producers earn consumer confidence and tap into new markets

Flexibility provisions help preserve food diversity in Serbia, as well as local traditions
The Serbian Government has recently approved hygiene bylaws on food products of plant origin, in line with EU legislation, that include flexibility measures and derogations for traditional food products.
Under this new legislation, Serbian producers can continue following traditional methods for making and selling food products based on fruits, vegetables and fresh herbs, as long as the food is safe. It also covers small-scale processing.
Serbia's food heritage runs deep, with many traditions passed down from one generation to the next.  This is evident in the array of Serbian products on the market, like jams, juices, dried fruits, pickled cornichons, the traditional red pepper paste ajvar, and other products using fresh local produce.   
Most Serbian food businesses are run by families with strong links to their customers and a commitment to high standards. Over 30,000 farming families grow their own fruits and vegetables – a figure that continues to increase.
And these businesses have excellent potential to grow. 
But to be competitive at home and abroad, they need to assure consumers that they do not cut corners on hygiene and their produce is safe to eat.
The flexibility measures detail specific requirements on the processing of fruits, vegetables and fresh herbs that either are not compulsory for small-scale operators or can be adapted to their conditions.
FAO and EBRD are preparing guidelines and promotional materials to help Serbian producers understand and comply with the new bylaws.
Over the years, EBRD and FAO have supported the Serbian Government on food safety and quality standards to improve competitiveness in the country's meat and dairy industries. They have done similar work elsewhere in the region, most notably for Montenegro's meat industry.
These latest efforts on bylaws of food products of plant origin complete the circle in Serbia. They also send out a strong message on the economic benefits of diversifying and adding value to fresh local produce.
The flexible bylaws help preserve the diversity of high-quality food products in the country without sacrificing food safety and hygiene.
This positive step will preserve local traditions, cultural heritage and livelihoods, giving smaller operators a chance to stay in business and compete on the market. The current COVID-19 crisis shows the importance of short value chains and local sourcing to ensure the resilience of food systems. FAO's and EBRD's joint efforts to help farmers and small-scale producers be part of formal value chains can contribute to this rebalancing act.  
This is welcomed news indeed.