Our current food systems cannot fulfill their purpose to provide nutritious and healthy food to all and contribute to enhanced livelihood opportunities in an environmentally sustainable way. They are being challenged by several factors, including changing diets, technology, urbanization and climate change.
In many instances, the problem lies in the constraints of the system, far beyond agricultural production. There may be enough food to potentially feed everyone - preventing the dual healthy burdens of malnutrition and obesity-, however, the economic and territorial imbalances are such that food systems do not generate fair economic returns for all actors, particularly for small-scale producers, triggering an endless cycle of precariousness and poverty.
The FSA started with 8 pilot countries (Bhutan, Burkina Faso, Colombia, Dominican Republic, Madagascar, Malawi, Nepal, and Senegal) and is extending to over 50 countries.
Since 2020, FAO, the European Union, and CIRAD, have entered into a partnership with governments and stakeholders to initiate a large-scale assessment and consultation on food systems in more than 50 countries, as a first step towards transforming them. The three partners share as priority agenda to be part in supporting the global transition to sustainable and inclusive agri- food systems.
The evidence and knowledge gathered will help identify entry points for innovative policy and investments solutions and inform the high-level Food System Summit convened by UN Secretary-General, Antonio Guterres, in September 2021 in view of guiding future action under the global food systems transformation agenda.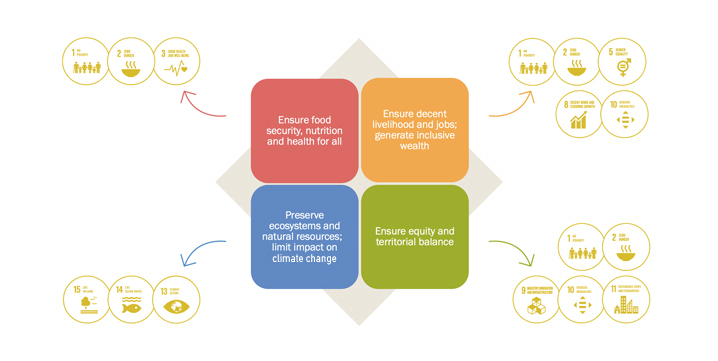 (September 2021) As world leaders gather in New York for the UN Food Systems Summit, convened under the General Assembly, to discuss solutions to improve the world's food systems, the Food and Agriculture Organization of the United Nations (FAO) is releasing key results from a major food systems assessment programme...
FSA in the press
Latest European Union and CIRAD Stories

Press releases
Articles
Blog/Radio/Podcast/Television
WFF side event in the press