WFSD-global-slider.png
Global support for World Food Safety Day
09/06/2019
Friday 7 June 2019 saw countries all over the world come out in support of safe food. From the islands of the South West Pacific to the heart of Europe, from all over Asia to North and South America and all countries in between, governments, producers, food processors and consumers underlined that food safety is everyone's business.
Prime Minister Modi, India offered his support and described the day "of prime importance for … well-being and health", especially of women and children underlining the importance of "implementing the latest and best standards of food safety".
Celebrating the myriad benefits of safe food
Some of the countries and organizations that have contributed to raising awareness by holding events on the inaugural World Food Safety Day.
Barbados
Belgium
Bolivia
Brazil
Chile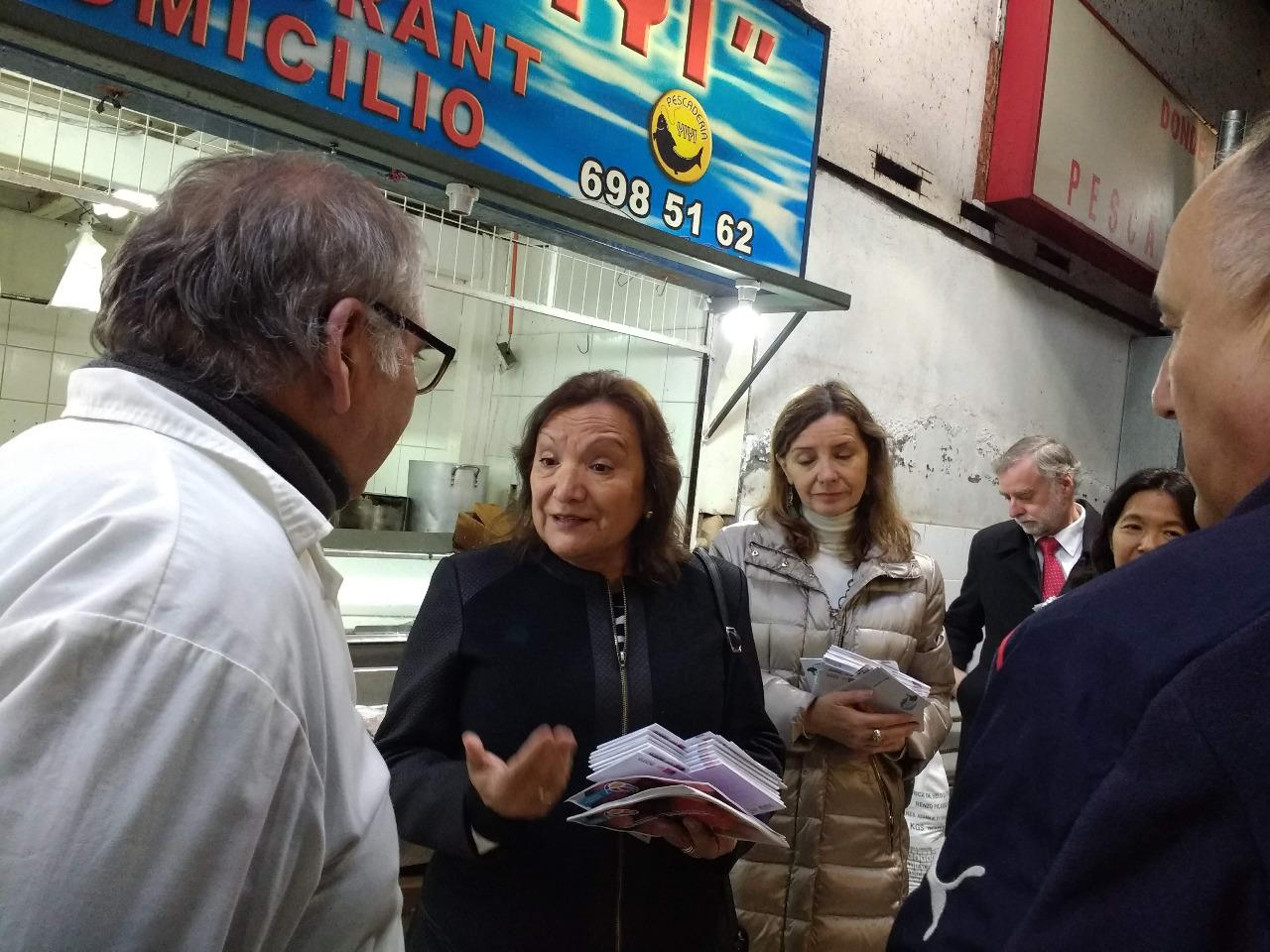 China - Shenzhen Market Supervision Administration and the Shenzhen Library
Cook Islands
Cuba
Gracias a @MINSAPCuba y @japortalmiranda por acoger celebración del primer Día Mundial de la Inocuidad de los Alimentos.

Felicitaciones para la Oficina Nacional de Normalización @citmacuba, punto de contacto del @FAOWHOCodex.#AlimentosSeguros https://t.co/aKDWEFTDRY pic.twitter.com/6tLwVogH8l

— FAO Cuba (@FAOCuba) June 8, 2019
 European Food Safety Authority
Our staff celebrate the 1st 🍏🍎#WorldFoodSafetyDay 🍎🍏 pic.twitter.com/QDTQsSptzq

— EFSA (@EFSA_EU) June 7, 2019
Food Drink Europe
Happy #WorldFoodSafetyDay! EU agri-food chain partners have united their voices to highlight their commitment to delivering safe food to consumers all around the globe🍽️🌍. Check out our video message! https://t.co/x95Jipfyfo @FAOWHOCodex @Food_EU @FAO @V_Andriukaitis pic.twitter.com/pKQ5YJINlg

— FoodDrinkEurope (@FoodDrinkEU) June 7, 2019
France 
#WorldFoodSafetyDay 🥘🥪 Ce 7 juin lancement de la 1ère Journée mondiale dédiée à la #SécuritéSanitaire des aliments.

➡️ Pour l'occasion Bruno Ferreira, directeur général de l'alimentation au @Min_Agriculture revient sur les enjeux de cette journée 🎬 pic.twitter.com/ll2TQpnDha

— Alim'Agri (@Min_Agriculture) June 7, 2019
Germany
 Ghana
Guatemala
Honduras
Hong Kong
India
📽️| India's youngest food safety ambassador - Ms. Ojasvini Naik supports #WorldFoodSafetyDay🍏

(#CodexAdmin heart is currently melting♥️) pic.twitter.com/09k1Evmlh4

— Codex Alimentarius (@FAOWHOCodex) June 7, 2019
Ireland
Italy
#WorldFoodSafetyDay | "#SicurezzaAlimentare significa anche garantire ai consumatori informazioni chiare e corrette sui prodotti che stanno acquistando. L'impegno del #Mipaaft è di lavorare ogni giorno al contrasto delle frodi che mettono a rischio la salute pubblica" -#Centinaio pic.twitter.com/XCT0ToTYbq

— Mipaaft 🇮🇹 (@Mipaaft_) June 7, 2019
Kenya
Malaysia
Nurses from Southwest Health District Office, Penang Support World Food Safety Day!#WorldFoodSafetyDay@FAOWHOCodex #bkkmhq#jknpenang pic.twitter.com/JiJYDNV55v

— Keselamatan Makanan (@BKKMputrajaya) June 3, 2019
Nicaragua
📸 | Nicaragua celebra el #WorldFoodSafetyDay🍏 presentando la labor y avances del país en materia de inocuidad alimentaria, incluyendo la gestión del #CodexAlimentarius https://t.co/5Ol9EgBwn0 pic.twitter.com/jwJJFX3DfK

— Codex Alimentarius (@FAOWHOCodex) June 7, 2019
Qatar
Samoa
📰 | #CodexNews | #Samoa celebrates first #WorldFoodSafetyDay🍏

➡️ https://t.co/oeynsBUb2u#FoodSafety #FoodTrade pic.twitter.com/UMex4EtWhM

— Codex Alimentarius (@FAOWHOCodex) June 7, 2019
Tanzania
USA
Vietnam
Zambia
FAO Asia Pacific
Panaftosa
#wfsd #WorldFoodSafetyDay2019 @panaftosa_inf @opsoms pic.twitter.com/B8m62ot9C1

— Simone Moraes Raszl (@SimoneRaszl) June 7, 2019
WHO Sri Lanka
Emphasizing the burden of foodborne diseases at #worldfoodsafetyday Dr Pendse stated "Unsafe food containing harmful biological or chemical substances, causes over 200 diseases- threatening human health & economies, affecting vulnerable people especially women & children." @WHO pic.twitter.com/GCX4PeBntL

— WHO Sri Lanka (@WHOSriLanka) June 24, 2019
WFP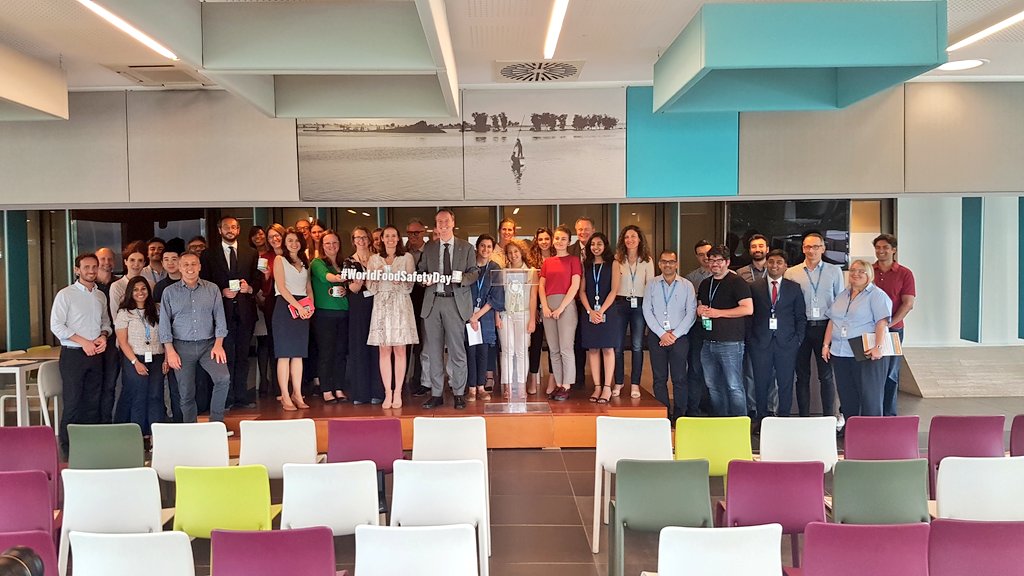 To add your events to this page contact [email protected]
See the full gallery on Flickr
#WorldFoodSafetyDay