Governance and coordination
Ridding the world of hunger and poverty requires an inclusive and participatory process in which all segments of the population, especially the most vulnerable, have their needs and rights properly represented. Imagine a scenario where governments, parliaments, civil society and the private sector have regular and informed dialogue on designing and developing policies: from when policies are being crafted, to their implementation and monitoring and evaluation. How much better could we leverage and align everyone's strengths to national priorities?
However, for any real change to happen, governance and coordination mechanisms need to be greatly enhanced. Responding directly to requests by countries, FAO convenes multi-stakeholder dialogue at global, regional and country levels. Currently, FAO supports various platforms and committees bringing stakeholders to work together, to share experiences and best practices on ending hunger and food insecurity by 2030.
A noteworthy example is the World Committee for Food Security (CFS). It offers an international platform for inclusive intergovernmental dialogue on issues that are key to food security and nutrition. Discussions held at the Committee lead to policy recommendations, sometimes taking the form of voluntary guidelines that are guiding principles for countries as they work to achieve food security and nutrition for all.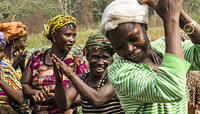 In Sierra Leone, the livelihoods of many people depend on having secure and equitable access to and control over natural resources. However, increased pressure on land, forestry and fisheries compounded by weak tenure governance has led to ownership disputes...