Matériel de communication
*Lorsque vous ajoutez un matériau de sol à votre page web, n'oubliez pas de le lier à www.fao.org/world-soil-day/fr/
NEW! Social media cards and poster on soil salinization!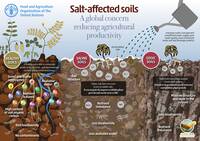 Soils affected by salinity and sodicity undergo a rapid decline of health, losing their capacity for biomass production, natural filtration, carbon sequestration and other necessary ecosystem functions.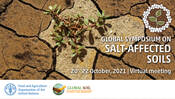 This high-level science-policy meeting #GSAS21 "Halt soil salinization, boost soil productivity" will be held in a virtual format from 20 to 22 October 2021.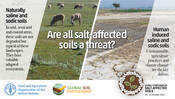 The differences between naturally saline and sodic soils and human-induced salinization and sodification.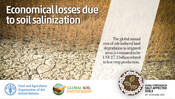 The global annual cost of salt-induced land degradation in irrigated areas is estimated to be USD 27.3 billion related to lost crop production.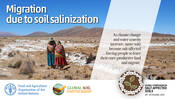 As climate change and water scarcity increase, more soils become salt-affected...forcing people to leave their once productive land and migrate.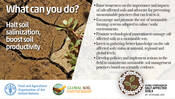 Raise awareness, promote the use of sustainable farming systems, invest in gathering better knowledge...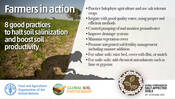 Eight good practices to halt soil salinization and boost soil productivity: Practice halophytic agriculture, irrigate with good quality water...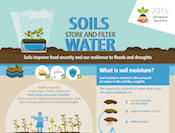 Functional soils play a key role in the supply of clean water and resilience to floods and droughts.
Soils help to combat and adapt to climate change by playing a key role in the carbon cycle.
Healthy soils are crucial for ensuring the continued growth of natural and managed vegetation, providing feed, fibre, fuel, medicinal products and other ecosystem services such as climate regulation and oxygen production. Soils and vegetation have a reciprocal relationship.
Soils host a quarter of our planet's biodiversity.Soil is one of nature's most complex ecosystems: it contains a myriad of organisms which interact and contribute to the global cycles that make all life possible.
French | Spanish | Chinese | Russian | Arabic Other languages: Hungarian
Our soils are in danger because of expanding cities, deforestation, unsustainable land use and management practices, pollution, overgrazing and climate change.
French | Spanish | Chinese | Russian | Arabic Other languages: Czech | Turkish
Cards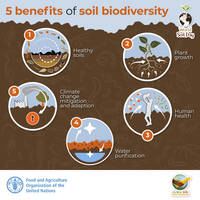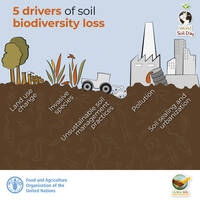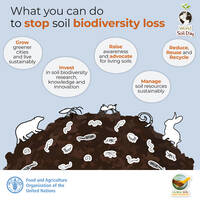 Thematic factsheet