Communication material
*When adding any soil material to your webpage, remember to link it to www.fao.org/world-soil-day/en/
This infographic aims to raise awareness on soils and link healthy soils have with the UN Sustainable Development Goals (SDGs).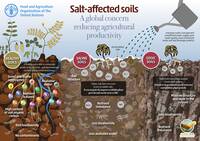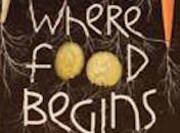 Healthy soils not only are the foundation for food, fuel, fibre and medical products, but they are also playing a key role in the carbon cycle, storing and filtering water, and improving resilience to floods and droughts.
العربية | 中文 | English | Français | Italiano | Русский | Portouguese | Español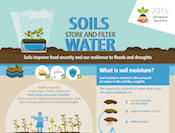 Functional soils play a key role in the supply of clean water and resilience to floods and droughts.
Soils help to combat and adapt to climate change by playing a key role in the carbon cycle.
Healthy soils are crucial for ensuring the continued growth of natural and managed vegetation, providing feed, fibre, fuel, medicinal products and other ecosystem services such as climate regulation and oxygen production. Soils and vegetation have a reciprocal relationship.
Soils host a quarter of our planet's biodiversity.Soil is one of nature's most complex ecosystems: it contains a myriad of organisms which interact and contribute to the global cycles that make all life possible.
French | Spanish | Chinese | Russian | Arabic Other languages: Hungarian
International Year of Soils 2015: Healthy soils for a healthy life (available soon)
Our soils are in danger because of expanding cities, deforestation, unsustainable land use and management practices, pollution, overgrazing and climate change.
French | Spanish | Chinese | Russian | Arabic Other languages: Czech | Turkish
Cards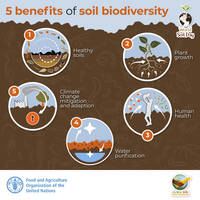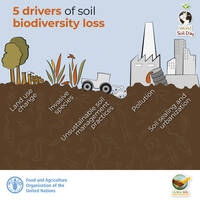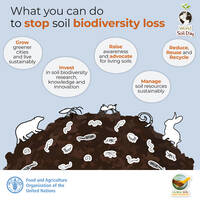 Thematic factsheet