About the series
The State of Food and Agriculture,one of FAO's major annual flagship publications, aims at bringing to a wider audience balanced science-based assessments of important issues in the field of food and agriculture. Each edition of the report contains a comprehensive, yet easily accessible, overview of a selected topic of major relevance for rural and agriculture development and for global food security.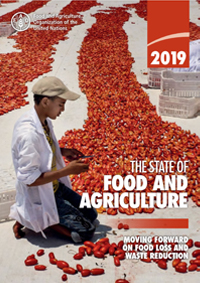 Moving forward on food loss and waste reduction
This new edition of the report focuses on food losses and waste, providing new estimates of the world's food post-harvest up to, but excluding, the retail level.
Addressing policy makers, the report also offers a comprehensive analysis of the critical loss points in specific supply chains, thus providing examples on appropriate measures for an effective reduction.
Digital Report | Full Report | In Brief | Flyer | E-Book MOBI | EPUB
Video