Latest Publications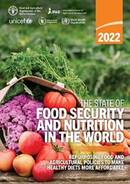 The 2022 edition of the flagship report should dispel any lingering doubts that the world is moving backwards in its efforts to end hunger, food insecurity and malnutrition in all its forms. We are now only eight years away from 2030, but the distance to reach many of the SDG 2 targets is growing wider each year. The intensification of the major drivers behind recent food insecurity and malnutrition trends (i.e. conflict, climate extremes and economic shocks) combined with the high cost of nutritious foods and growing inequalities will continue to challenge food security and nutrition. This will be the case until agrifood systems are transformed, become more resilient and are delivering lower cost nutritious foods and affordable healthy diets for all, sustainably and inclusively.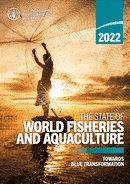 The State of World Fisheries and Aquaculture 2022
The 2022 edition of The State of World Fisheries and Aquaculture coincides with the launch of the Decade of Action to deliver the Global Goals, the United Nations Decade of Ocean Science for Sustainable Development and the United Nations Decade on Ecosystem Restoration. It presents how these and other equally important United Nations events, such as the International Year of Artisanal Fisheries and Aquaculture (IYAFA 2022), are being integrated and supported through Blue Transformation, a priority area of FAO's new Strategic Framework 2022–2031 designed to accelerate achievement of the 2030 Agenda for Sustainable Development in food and agriculture.
The State of Agricultural Commodity Markets 2022
This edition of The State of Agricultural Commodity Markets (SOCO) discusses how trade policies, based on both multilateral and regional approaches, can address today's challenges for sustainable development. Trade policies in food and agriculture should aim to safeguard global food security, address the trade-offs between economic and environmental objectives, and strengthen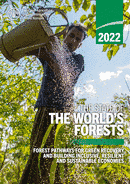 The State of the World's Forests 2022
The 2022 edition of The State of the World's Forests explores the potential of three forest pathways for achieving green recovery and tackling environmental crises, including climate change and biodiversity loss against the backdrop of the Glasgow Leaders' Declaration on Forests and Land Use and the pledge of 140 countries to eliminate forest loss by 2030 and to support restoration and sustainable production and consumption.