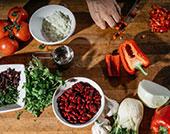 High Level Event on the Mediterranean Diet
The Directors-General of FAO and CIHEAM will be joined by experts to discuss how to preserve the principles of the Mediterranean Diet as an intangible food systems heritage, and how to ensure this heritage is preserved by current and future generations.
The event will be live streamed on Tuesday 11th June, from 14:00 - 15:00 Rome time (GMT+2).
---
Our current food systems are challenged to deliver on the healthy diets needed for optimal health, and thus the global call for food systems transformation.
Poor diets have become a major contributor to disease and death. While nutrition is in transition all over the world, climate change and biodiversity loss are seriously undermining our ability to feed and nourish an ever-growing global population.
The Mediterranean Diet was declared in 2013 as the World's Intangible Cultural Heritage by UNESCO. According to UNESCO, "the Mediterranean diet is a set of traditional practices, knowledge and skills passed on from generation to generation and providing a sense of belonging and continuity to the concerned communities."
There are lessons to learn from the Mediterranean diet. It is a diet that is characterized by high consumption of vegetables, fruits and legumes, moderate amounts of dairy products, low to moderate amounts of seafood and poultry, low amounts of red meat, and olive oil as the main type of added fat. It's also linked to the original Greek concept of diaita – "way of life".
The practice of "breaking bread together" has deep Mediterranean roots and evokes the peace-making and solidarity-building powers of sharing food security with others. It is, without any doubt, a critical skill within a region that has been a crossroads of culture for millennia.
Through a large body of research, the Mediterranean diet has been widely recognized as a healthy dietary pattern linked to better health outcomes. The Mediterranean region offers an example of a diet where food production and consumption are interlinked to produce multiple benefits in terms of health and sustainability.
Unfortunately, the Mediterranean diet is being eroded in its region of birth. Factors such as urbanization, increased availability of prepared and processed foods as well as mobility and migration are exerting pressure on traditional diets in the Mediterranean region. Other traditional diets around the world are also under pressure.
In our quest for healthy diets, the Mediterranean diet represents a dietary pattern to learn from in terms of sustainable production and consumption.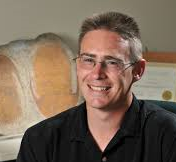 Microbiome Research: What does this mean for the future of food and healthy diets?
Rob Knight, Professor of Pediatrics, Bioengineering, Computer Science and Engineering at the University of California, San Diego (USA) will present a seminar on microbiome.
The event will be live streamed on Monday 10th June, from 12.30 - 13:30 Rome time (GMT+2).